Who are We
We are a team of lead IT experts dedicated to web-based technology and branding services. Besides In-house team, we also recruit remote employees.
We are always on the hunt for great talent who is enthusiastic and bares the same values to join the team and help us achieve our own ambitious goals as a company.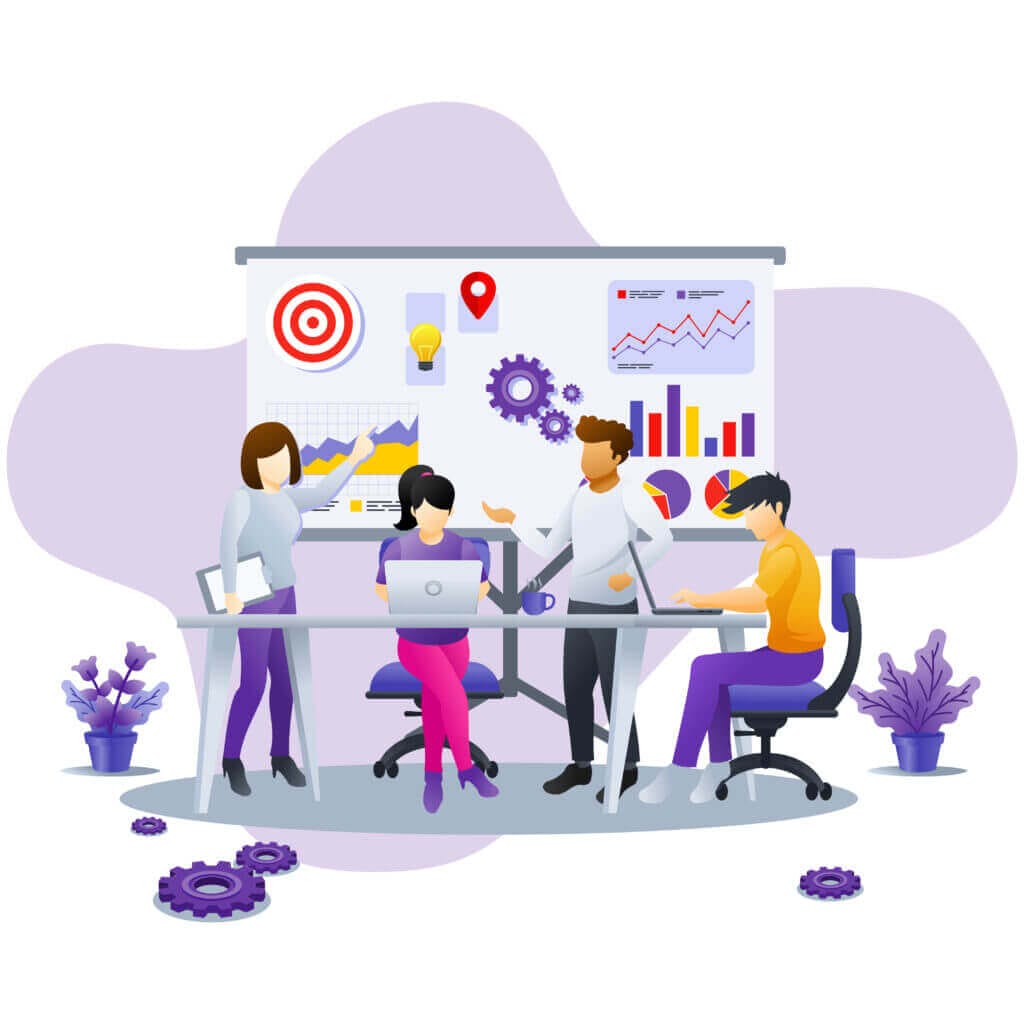 Our Identity
Our 6-D Process
Discover
We sit down with you and find out what is your current state and what are your requirements to assess the gap and make a project charter. We will make a complete survey of your industry to make usability audit and explore potential solutions.
Define
We start by defining the requirements of your project. Desired state is defined and the web strategy is implemented. Costs are estimated and the key delivery dates are scheduled. Moreover, specific deliverables are agreed upon.
Design
We move onto designing the solution for you. This may involve designing a new website, or designing a digital marketing plan. We design your timeline, create your sitemap and visualize the concept design.
Develop
This could mean developing a step-by-step plan for your marketing, or developing a wired version for your new website. The design files are handed off to the development team to implement the code and back-end systems.
Deploy
We will publish a live version of your solution, so you can see how the solution works. We monitor your site for 30 days after launch to guarantee the standards. Administrative access is delivered and all the necessary training is provided.
Drive
We will work with you, providing 24/7 support, to make you and your employees fully aware of the solution. Using digital marketing and SEO techniques, we will keep helping you reach your potential and existing customers.
Our Passion
WebPlover combines a powerful mix of digital marketing strategy with a generous touch of creative juices and a mix of custom technology-driven solutions as a stalker. We create innovative solutions for SMEs and co-create bold digital products for growing startups.
We support the online presence of our customers and actively implement sales and promotion strategies. We believe in the power of internet marketing and focus all of our interactive services around it.
We are passionate about transparency, reliability, trust and exceptional customer service – we are not satisfied with our creation until you are. We take great care of your needs. We understand your business goals and present them based on your business values. We do this thanks to the massive interest of our employees – talented web design professionals who know how to create your online success.At WebPlover, our success is measured by your success. For us, it's not just about creating something that looks great, but just about getting results.
Have any queries? We are always eager to Help You Out!
Frequently Asked Pre-Sale and Technical Questions