How To Install Django On Android [With Pictures]
Install Django On Android
Nowadays, Python is the most popular Programming Language in the world; the one reason for its popularity is that it is incredibly easy to learn and use.
Python is interpreted as a high-level programming language for general-purpose programming. You can use it for both Desktop and Web Applications Development.
There are a few frameworks that provide us the ability to develop web applications in Python, like Django, Flask, Tornado, Falcon, Hug, Sanic, aiohttp, Pyramid, etc.
The most popular Python Web Framework is Django.
In this article, you will get the ultimate guide on how to install Django on Android.
Let's Get Started…
Video Tutorial
Step 1:
First of all, you will need a terminal; in my opinion, Termux is the best terminal for Android.
Download it from the below link
Step 2:
Download Hacker's Keyboard
This keyboard allows you the Ctrl, Alt, Esc, Arrow keys.
Download it from the below link
Step 3:
Open Termux.
And install Python by entering the following command
pkg install python
Python setup size is about 5.4 MB
Python has been downloaded successfully.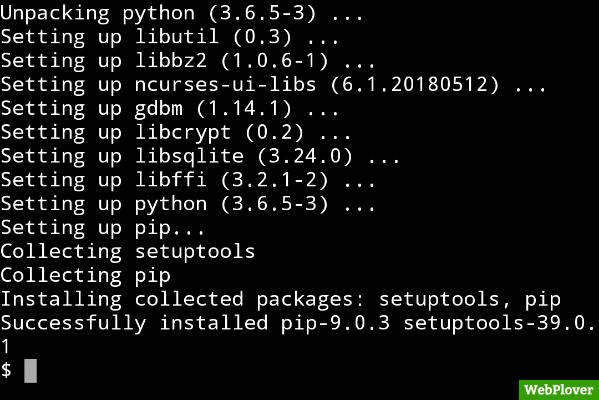 Step 4:
Create a new directory for Django
Use the following command to check your current directory
pwd
To create a new directory, use the following command
mkdir directory_name
I am creating a 'Django' directory
After creating a new directory, enter it by
cd directory_name

Step 5:
Install Virtual Environment to create environment for your project. For this, use this command
pip install virtualenv
After installing the virtual environment, create a virtual environment by using this command
virtualenv env
Then activate the virtual environment with the following command
. env/bin/activate

After environment activation, install Django in the same directory where you have installed virtual environment, by typing
pip install django
You can check your Django version by using the following command
django-admin --version

Step 6:
Create a Django Project
To create a new project, use the following command
django-admin startproject testsite .

Here I am creating a "testsite" project.
After creating a project, you can see your project by this command:
ls

Now use this command for migration

python manage.py migrate
Step 7:
This is the last step
Here we will run the server.
Use the following code to run the server
python manage.py runserver

The server has started successfully.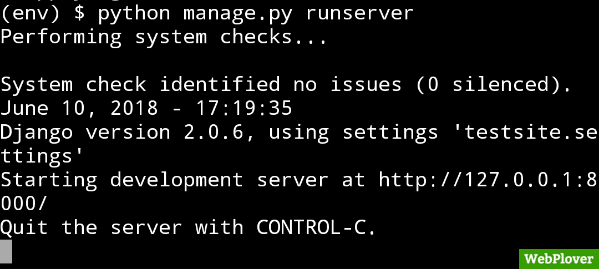 Now, open your browser and enter the default Django server address.
http://127.0.0.1:8000/
And hit the enter key
You will see the Django welcome page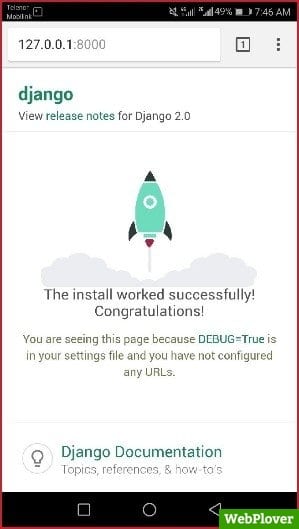 It means Django has been successfully installed.
You can close the server by pressing Ctrl+C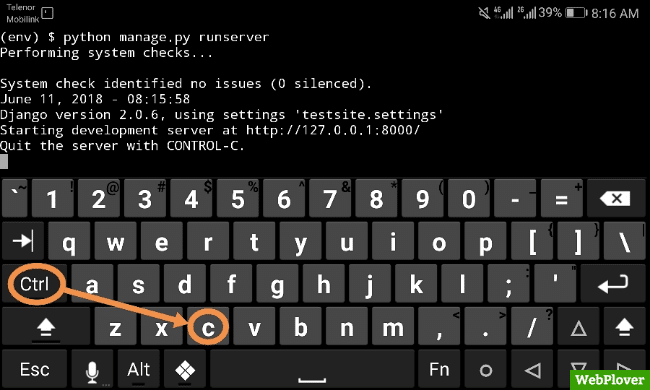 Now, if you have any questions, don't hesitate to let me know through comment or email, I will try to help you.
If you found this article helpful, then please Subscribe to our YouTube Channel for video tutorials, and share this article on social media.