How To Change The Footer Copyright Text Of Hestia WordPress Theme
If you want to change the footer copyright text of the Hestia WordPress theme, this 2-minute read is for you.
Step By Step Guide to change the Footer Copyright Text in Hestia
Step 1:
Login to your WordPress site.
Step 2:
In the WordPress dashboard, go to
Appearance → Customize → Footer Options

Replace the underline text and links, according to your needs.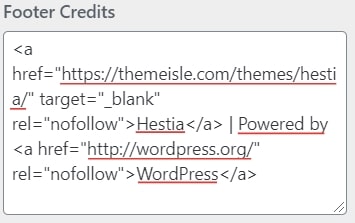 It's Done
If you have any problems in Hestia theme yet, or in any other WordPress theme, don't hesitate to comment below, I will try to help you.
Here are a few guides you may like to read next:
What's Next!
Now if you have any questions, don't hesitate to let me know through comments or email, I will try to help you.
If you find this post helpful, share it on Social media.